Although only 1.25 square miles in size, Emeryville offers a variety of retail venues and shopping destinations.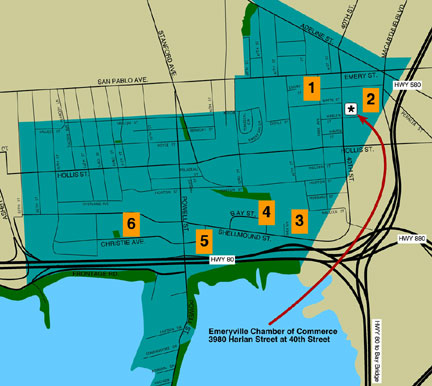 # 1 — The Promenade is on San Pablo Avenue between 45th Street and Park Avenue. Stores include WingStop, Arizmendi Bakery, Long's Drugs and IHOP.
# 2 — East BayBridge Shopping Center is on 40th Street west of San Pablo Ave. Stores include Best Buy, Office Depot, Office Max, Home Depot, Michaels, BNC Nutrition Center, Radio Shack, PaNSave, Baskin Robbins, Verizon Wireless, GameStop, Pacific Sales, Pet Club and Babies R Us. Plenty of free parking.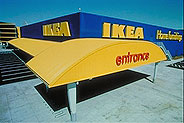 # 3 — IKEA
The famous Swedish furniture designer and retailer, located at 4400 Shellmound St., opened its Emeryville complex in the Spring of 2000, and is attracting visitors from all over the Bay Area and beyond. Plenty of free parking.
# 4 — Bay Street Emeryville is a diverse new urban neighborhood featuring retail, residential, restaurant, hotel and entertainment offerings designed to serve as a gathering place for Bay Area residents and visitors.Bay Street's 1,900 parking spaces are integrated throughout the project, including some parallel parking in front of stores on both sides of the actual Bay Street, a traditional main street. The housing and hotel will include additional parking venues.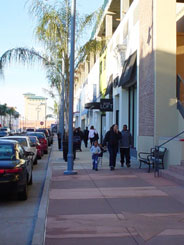 Bay Street Emeryville Restaurants:
Asqew Grill
Buckhorn Grill(Chamber Member)
California Pizza Kitchen
Elephant Bar and Grill (Chamber Member)
Fuddruckers
Pasta Pomodoro
P.F. Chang's China Bistro
Pizza My Heart
Rubio's Fresh Mex Grill
Zao Noodle Bar
Aaron's Brothers, Abercrombie & Fitch, Aerosoles, Aldo Shoes, AMC Bay Street 16, A Pea in the Pod, Ann Taylor Loft, Apple Computer, AT&T; Wireless, Baby Gap, Banana Republic, Bank of America, Barnes & Noble, Bath & Body Works, Bebe, Better Homes Realty, The Body Shop, Bombay, The Bombay Company, Chico's, Cingular Wireless, Claire's, Coach, Cold Stone Creamery, Elements for the Sole, EQ3, Express, Fossil, Fuddruckers, GameStop, Gap, Godiva, Gymboree, Harry and David, Harvest Home, H&M;, Hot Cups, J. Crew, J. Jill, Kay Jewelers, Lush Fresh handmade Cosmetics, Magnolia Hi-Fi, Nike Shop, Old Navy, Pottery Barn, Pottery Barn Kids, Q-Cup, See's Candies, Sephora, Sole Salon (Aveda), Steve Madden Shoes, Sunglass Hut, Sunshades, Teacake Bake Shop, Victoria's Secret, West Elm, Williams-Sonoma.
# 5 —Powell Street Plaza houses brand name retailers, including Beverages and More, CSAA, DB Shoes, Jamba Juice, Petco, Pier 1, Ross, SleepTrain, Starbuck's Coffee, Trader Joe's, and Togo's among many others.
# 6 — The Emeryville Public Market features Borders Books and Music, the Broken Rack Billiards Club, United Artsts Emeryville Emery Bay 10, Shape City Emeryville, Peet's Coffee & Tea, Western Career College, Salon of Emery Bay, and the International Food Court known throughout the East Bay for its huge array of affordable and fun food stalls.
Other retail in Emeryville includes the following Chamber of Commerce members:
Draperies by Susan – 6037 Christie Ave.
Custom window coverings, re-upholstery, pillows, bed coverings.
Interior Motions – 1460 Park Ave.
New and used office furnishings.
Marsh Interiors – 3850 San Pablo Ave.
Window coverings and interior design.
Peaberry's Coffee & Tea – 4059 Emery St.
Retail bulk coffee beans on sale on Fridays from Noon – 3 p.m.
Watergate Market – 2390 Powell St.
Full supermarket, great vegetable department, wonderful deli.
All major shopping areas are served by the free Emery Go•Round bus service.